After Watching Joe Cross Documentary Fat, Sick and Nearly Dead I Learned About Great Juice Drinking Benefits – Now You Can Lose 70.8 Lbs in 14 Days Like Jonathan!
OK, before I will share all the things you need to know about juicing and losing weight, I have to tell you that drinking juice every single day can significantly improve your overall health and wellness. I never really paid attention to this up until couple months ago, where I stumbled across the Joe Cross documentary movie called Fat, Sick and Nearly Dead.As you probably know, I am a health geek.
Yes, I practice martial arts since I was 6. I read all about natural chinese medicine, herbs and other remedis since I was 10 years old and since the age of 19, I have been helping people to achieve great health and fitness levels. So as soon as I discover some great information about feeling great, trust me… I will tell you about it.
Anyway… the movie Fat, Sick and Nearly Dead made my cry. It is better than Titanic! It starts like almost every documentary and at first I thought that Joe Cross only coppied the Supersize Me movie. But as the film continued, I learned more and more about the benefits of juicing.
The results were spectacular. Joe Cross had some kind of autoimmune disease, where he got all red skin marks everytime he ate certain foods or everytime he got bitten by mosquito…I mean I get also red skin after mosquito bite, but his whole body swell. He also got fat, because of the western diets — eating all the fast food like pizzas, burgers, drinking sugary sodas etc…
Finally his doctor had to prescribe hundreds of pills to treat his conditions. But you have to understand that these pills are chemicals that help you to manage the health conditions, but it will never heal. Basically, he was poisoning himself and doctors knew about it.
And that is why Joe got fed up and started to follow his Juice Reboot program. And after couple days, you can see his skin getting much better, his stomach fat got smaller and he had a lot of energy. I loved his transformation and not just the weight loss. He slowly stop taking some of his medicine untill he did not need it anymore…
Hey, that rally makes me mad! Why doctors give you chemical drugs instead of helping people like Joe to feel better??? Ah, they must sell drugs, so FDA approved drug companies make money! Isn't it insane?
Anyway, by watching Joe body transformation I really think that juicing is one of the best home made detox drink and the safest method that will help you to lose weight and cleanse your body at the same time.
Does Juicing Really Help You to Lose Weight?
I am telling you YES! And you know what? Watch the movie and follow the story of Phil. A fat truck driver, who was very desperate, had low self esteem, was on thousands of medication, could not walk even three steps to get to his doctor…
This guy was the reason why the movie made me cry…even now, just thinking about it… I have tears in my eyes. But they are tears of happiness and I really feel proud of Phil.
At the end Joe ask him also question – Does juicing work?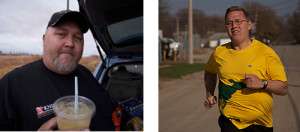 What do you think Phil had answered? Ok, watch the movie and see if you guess it right.
But the cool part is that jucicing works not just for weight loss, but for all the other benefits that every single person who really tried it experienced.
What is Juicing?
Juicing is probably one of the best ways that you can increase your daily fruits and vegetables intake and help your body to digest as many nutrients as possible. To get a juice from any fruit and vegetable, you need a special machine that will do that for you. There are many great juicers, but I love the one that Joe is using, which is the Breville Juicer and you can get it for a great discount at the Amazon.com store – visit the store here.
Now, can you really eat 2-3 apples, the whole cucumber, spinach leaves, lemon, whole 8 kale leaves? And eat it all in one sitting? Can you do it at least three times a day… Well, I do not think so. But it is much easier when you get the juice out and drink it!
That is why, you can get a whole lot servings of fruits and vegetables. Which would bring some other benefits to your health. Let's see what other health benefits besides weight loss can juicing bring you.
Juicing Benefits – The New Level of Health
By reading and understanding these juicing benefits, you will be able to transform your body from inside out. Every cell your your body is renewed and you will soon recognize this as one of the major benefits. Not only your body will be thankful, but your mind as well.
And that is why, you will experience:
Improved digestion
Healthy colon
Improved immune system
Better skin
More energy
Weight loss
Lower your cholesterol levels
Improved mental health
Better vision
Improved nervous system
and much more
The list can continue, but I feel like there would be thousands of  health conditions that can be improved by juicing.
So how does juicing work?
Well, most of you will probably buy juice from the store, and never feel any health benefits. That is because these juices are processed and therefore contain no nutrients at all. Besided that, there is a lot of sugar added, which is couterproductive to your health.
So stay away from these!
The only way you will start benefiting from juicing is if you prepare fresh squeezed juice every day. It will give you more efficient way to absorb powerful nutrients and enzymes from the fruits and vegetables that would normally be locked away in the fiber of these fruits and vegetables.
When using quality juicer, all the stuff that your body needs will be broken down and released into the drink. And that will detox your body in a healthy way.
Also, if you have a problem to keep up with eating the 8 servings of fruits and vegetables, you will have no problem getting all the nutrients your cells need by drinking healthy and fresh juice.
I will share with you a great video, where Joe Cross explains all the benefits of juicing, so you learn it directly from a guy, who is a walking testament that juicing really work:
Did you hear that?
Joe said that fruits and vegetables are captured sunlight energy that your cells will be charger with and hence giving you the never ending supply of energy, health and therefore improving the way you look.
All fruits and veggies are rich in certain properties that become even more active after juicing. For instance, apples are loaded with enzymes, antioxidants and micronutrients that becomes more potent when they are liquefied. Vegetables and fruits in liquid form are quickly absorbed by your digestive system and give a powerful boost to your body.
Joe says that the array of fruits and vegetables lined up on his countertop provide great health benefits as they are high in potassium, magnesium, calcium and iron. These enzymes and micronutrients are perfect for healing many health problems.
And now, the story of Jonathan.
Jonathan Story of How Juicing for Weight Loss Helped Him to Lose 70.8 Lbs in Just 14 Days!
On the Joe Cross website one particular success story caught my attention. It is how a 31 year old guy from California achieved some amazing weight loss by following the Joe Cross Reboot juice diet for about 14 days.
Not only he lost some weight, but also he droped bad cholesterol levels and increased the good cholesterol.
He documented his story on his blog  www.84lbs84days.blogspot.com, so you can all learn from his experience. If you are wondering if juicing for weight loss works or not, or you do not believe me :-), go to Jonathan blog and learn from his story.
But stop saying any excuses. If you want to lose weight, improve your health from inside and out, then you should give the juicing a try.